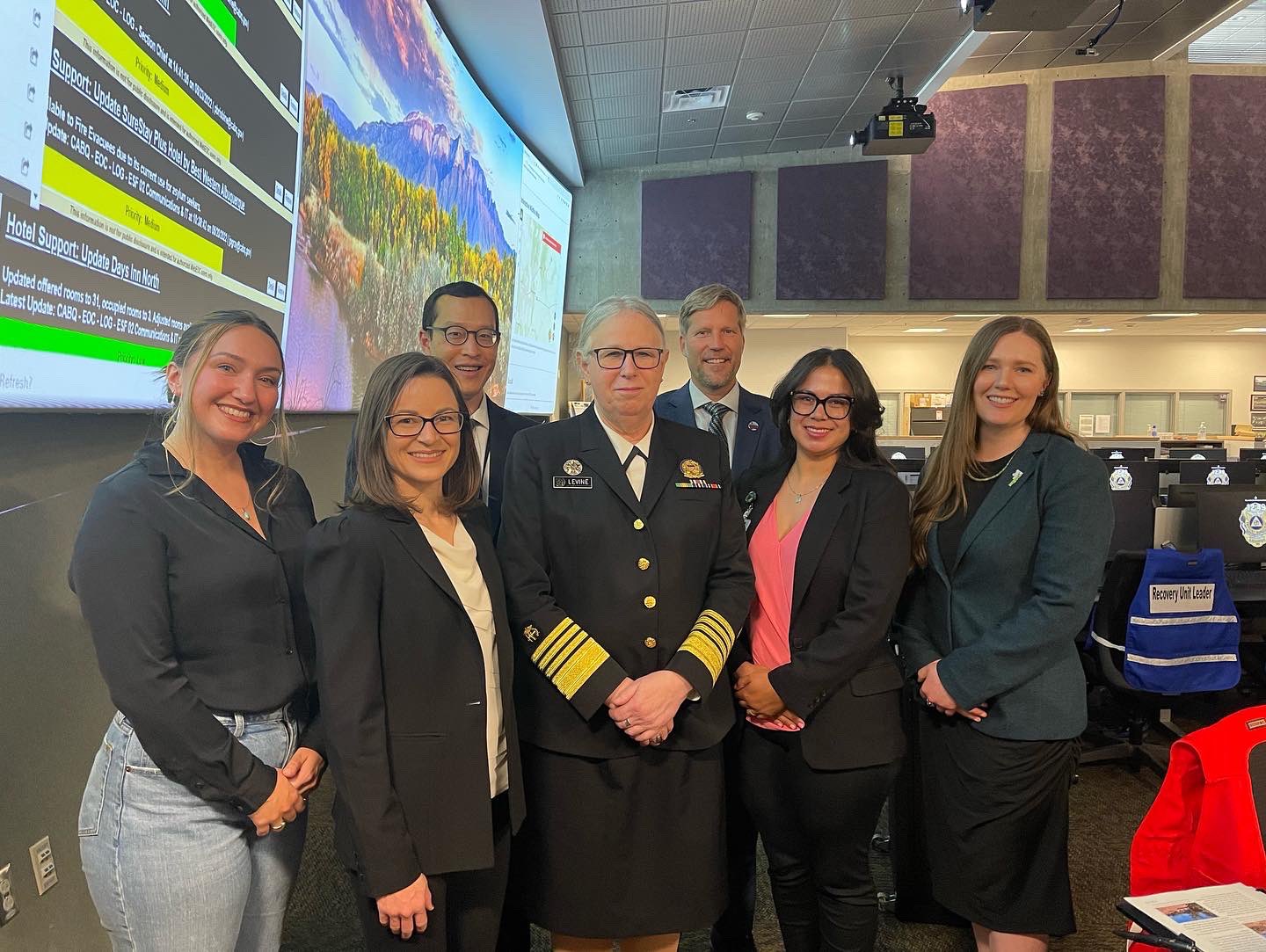 U.S. Assistant Secretary of Health Explores City of ABQ's Heat Mitigation Efforts – City of Albuquerque
May 26, 2022
Today, city officials were joined by U.S. Undersecretary of Health Admiral Rachel Levine, MD, who traveled to Albuquerque to highlight stories of cities experiencing the impacts of change climate change and the resulting public health implications for frontline communities. While in Albuquerque, Admiral Levine learned about Albuquerque's work to mitigate rising urban heat, its disproportionate impacts on vulnerable residents, and how federal, community and local partners can work to create change. .
Albuquerque's frontline communities, located in the hottest urban heat island areas, are most at risk of adverse health effects from heat, as noted in the 2021 Heat Watch campaign report from the town.
"This data is so important to show how heat affects neighborhoods in different ways across the city," said Sustainability Manager, Kelsey Rader. "Strategically increasing shade and tree canopy can go a long way in protecting residents from dangerous summer temperatures while providing health and environmental benefits."
"Using multiple sources of data is essential to implement data-driven management decisions and good management of the city's urban canopy," said Sean O'Neill, City Deputy Forrester "Maintaining and increasing this vital urban natural resource will compel everyone in our city to come together to create a greener, cooler community for all of us.."
Admiral Levine learned about local heat mitigation initiatives during a multi-site tour that began at the City of Albuquerque Emergency Operations Center, followed by Tingley Beach in the Bosque, Project community garden at Wilson Middle School and Rio Grande Valley State Park.
These locations feature green spaces, community gardens and heat mitigation projects. The City of Albuquerque also announced a new collaboration with NASA's DEVELOP program to further develop heat-related modeling to aid in strategic tree canopy development, which will take place this summer. DEVELOP addresses environmental and public policy issues through interdisciplinary research projects that apply NASA Earth observations.
"Cases of heat exhaustion and heat stroke in New Mexico are becoming more frequent as the average number of extreme heat days increases," said Heidi Krapfl, Deputy Program Division Director for the Division of Epidemiology and Response at NMDOH. "We must advance climate adaptation and resilience efforts to reduce or prevent public health impacts, especially for the most vulnerable."
"The effects of climate change on our community are already here; we can see it in the ozone and air quality alerts that force us to take our children indoors, in the historic catastrophic fires raging in the north, and in the heat islands in our poorest neighborhoods," said Mayor Tim Keller. "We are grateful to Admiral Levine for taking the time to learn about our local efforts. We stand ready to help scale these resilience and climate change adaptation strategies to protect people in cities across the country.
The new data modeling project builds on the substantial work of the Keller administration to date on sustainability, including:
Now using 88% renewable energy for municipal operations with the completion of the Solar Direct project,
Won a $2.7 million federal grant to bring the first electric buses to Albuquerque,
Signed the Paris Agreement, after President Trump pulled out, committing the city to climate action,
Installed 38 solar projects in city-owned buildings,
Ranked 4th among major U.S. cities for most solar installations installed per capita by Environment America's Shining Cities 2022 report,
Launch of the Mayor's Energy Challenge to help local businesses reduce their energy consumption,
Won the Bloomberg American Cities Climate Challenge with funding for sustainability efforts,
Made the transition to more sustainable LED streetlights throughout the city,
Provided over 200 homes with free energy audits and upgrades in partnership with PNM, Partnership for Community Action and Prosperity Works,
Purchase of the first electric vehicles for the City's fleet and implementation of a "Zero emissions first" fleet vehicle adoption policy,
Obtaining LEED for Cities Silver certification,
Ranked 31st out of more than 100 US cities for overall sustainability on the 2021 City Clean Energy Scorecard by the American Council for an Energy-Efficient Economy (ACEEE),
Installation of 20 electric charging stations with 36 charging ports in City facilities
Launch of the 2021 Climate Action Plan.