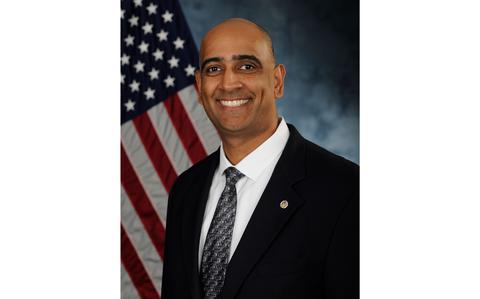 Republicans criticize Air Force assistant secretary's proposal to monitor troops
WASHINGTON (Tribune News Service) — Last year, Ravi Chaudhary called on the military to use artificial intelligence to track service members' online activity in an effort to root out extremists. On Thursday, it came back to haunt the candidate for a top Air Force job.
Chaudhary is President Joe Biden's choice to serve as the Air Force's assistant secretary for energy, facilities and the environment, after serving in the Federal Aviation Administration during the Trump administration. But he faced a hostile crowd of Republicans during his Senate Armed Services Committee nomination hearing.
GOP senators focused their questions on the Air Force veteran's July 2021 op-ed in Foreign Policy News, reflecting how the military should respond to the Jan. 6, 2021 riot on Capitol Hill, arguing that Chaudhary's proposal to monitor service members would violate due process and invade their privacy.
Between 10 and 20 percent of those charged in the Jan. 6 riot were military or veterans, according to conflicting media accounts. Responding to this evidence, Chaudhary suggested in his article using artificial intelligence as a way to monitor military communications and counter extremism in the armed forces. He said an algorithm could flag "toxic behaviors" for commanders to review.
He cited other examples of extremist violence within the ranks, including a 2019 shooting at Naval Air Station Pensacola in Florida in which an aviation student shot dead three people and injured eight, as well as multiple murders. at Fort Hood, Texas. In 2009, an Army Major shot dead 13 people and injured 30, while two years ago, Army Spc. Vanessa Guillén was beaten to death with a hammer by a fellow soldier.
Nonetheless, Republicans on the panel opposed Chaudhary's plans, arguing that such surveillance would invade privacy and violate due process.
"I think that's a really awful idea," ranking member James M. Inhofe of Oklahoma said.
Marsha Blackburn of Tennessee asked if Chaudhary would use AI or machine learning to monitor the electronic footprint of military personnel.
Florida's Rick Scott asked Chaudhary if he would require service members to download an app to their phones that would monitor them and compared Chaudhary's suggestion of using artificial intelligence to track communications to usage. by China of technology to track and imprison Uyghur Muslims.
Josh Hawley of Missouri, who has opposed nearly all of Biden's nominees for executive office and federal judgeships, also joined in, saying he was "astounded" that Chaudhary had been nominated for the post. light of his article and that he would not support his nomination.
Chaudhary responded by explaining that the intention of his article was to engage in the public debate on extremism after January 6 and that he did not want to implement the proposal.
"It didn't work out and I regret it," he said. "The men and women who serve – the vast majority of men and women who serve – serve with honor, integrity and excellence, and I believe that the constitutional rights of our men and women who serve must be protected, period."
Chaudhary appeared before the committee alongside three other candidates: Franklin Parker for deputy secretary of the Navy for manpower and reserve affairs; Agnes Schaefer as Assistant Secretary of the Army for Manpower and Reserve Affairs; and Frank Calvelli as Assistant Secretary of the Air Force for Space Acquisition and Integration.
If confirmed, Calvelli would be the Air Force's first assistant secretary for space acquisition and integration since the Space Force was created in December 2019.
©2022 CQ-Roll Call, Inc., All Rights Reserved.
To visit cqrollcall.com.
Distributed by Content Agency Tribune, LLC.