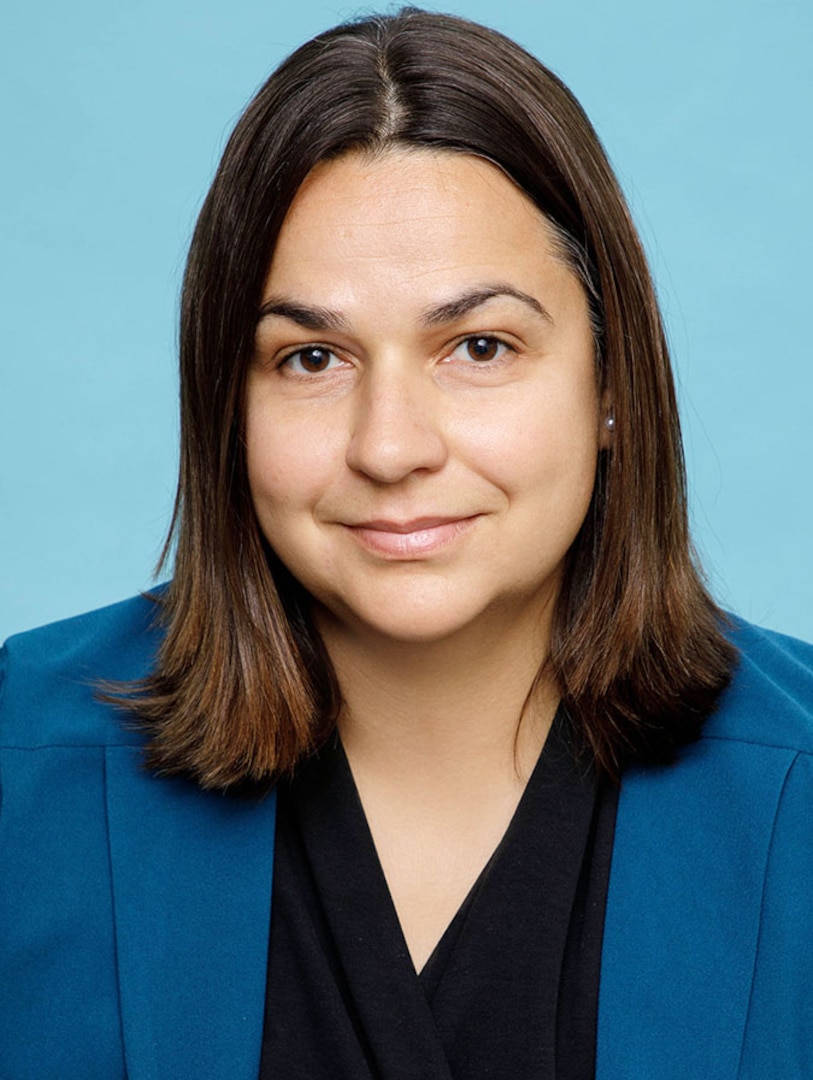 Newport scientist and engineers from NUWC division win awards from Assistant Secretary of the Navy, Dr. Delores M. Etter
NEWPORT, RI –

A Newport scientist from the Naval Undersea Warfare Center division and several engineers were recently recognized as Assistant Secretary for Navy Research, Development and Acquisition (ASN RDA), Dr. Delores M. Etter, Top Scientists and engineers for the year 2022.
These prestigious Navy awards recognize technical superiority, innovation, technical merit, operational impact and applicability to ASN RD&A priorities. This is the third consecutive year that Newport Division personnel have won this award, which is a Navy-wide competition.
Dr. Lauren Freeman, an oceanographer with the Newport Division's Ranges, Engineering and Analysis Department, is the winner in the Individual Science category for her outstanding contributions as the principal investigator of a team that developed passive sensing capabilities to detect ultra-quiet unmanned vehicles through the analysis of signals from nature.
Working with the Defense Advanced Research Project Agency, Freeman developed and leads a program called Passive Acoustic Detection through Reef Ecological Soundscapes (PADRES). By analyzing the natural bio-acoustic response to disturbances in the ocean, Freeman's system offers a stealth and robust method for passive acoustic monitoring, and delivers ultra-quiet, future-proof vehicle detection capabilities that have been demonstrated with success in various environments. PADRES incorporates the idea of ​​using animals in their natural environment and observing their behavior in order to identify when they sense tactically relevant disturbances. "His efforts could prove significant in maintaining the port's future defense and detection capabilities," Price says. "This will have a direct and positive impact on the warfighter, positioning the Navy to maintain superior capabilities in the ocean despite technological advancements from peers."
Dr. Michael Visich of the Newport Division's Underwater Warfare (USW) Engineering and Analysis Department, who is the PMS 450W Principal Investigator for Platform Simulation Modeling and Analysis Virginie, is a winner in the Individual Engineer category for her exemplary contributions to susceptibility analysis, which was documented in the Susceptibility Analysis Report for the Virginia Classroom Program Office. This report for the Virginia Class Program Office highlighted to Congress the differences in combat capability between the Virginia Block I and Virginia Block-V platforms against ever-changing threat capabilities in various mission domains relevant to a future of strategic competition never evaluated before for the Virginia. -class submarine program.
"Visich and his team's expert ability to create and use the first NUWC simulation, SIM II/Digital Weapons Analysis Facility, produced extremely high-fidelity simulation results that were used to identify gaps in warfare and have allowed the program to make credible decisions about future variants," Price says. "Furthermore, these results will be used to inform decisions regarding the acquisition of future attack submarines."
The Newport Division Cyber ​​Red team of the USW Department of Combat Systems has distinguished itself in the field of operational testing by applying a new and comprehensive approach to cybersecurity testing, which has earned it a victory in the Group category.
"Influenced by feedback from the Director of Operational Testing and Evaluation Reports, the Virginia/Columbia Early Development Testing Group decided to add cybersecurity technical rigor to its testing processes, the result being a thorough process and carefully designed that implements red team penetration testing in the early operational testing and evaluation phases," says Price. "This team of subject matter experts has developed an approach that will continue to be used as more technical insertions come along. The ultimate beneficiary is the warfighter who will receive more cyber-resilient systems from the start of platform integration.
Cyber ​​Red Team members include: Michael Beatty, Matthew Furtado, Benet George, Theresa Manning-Livolsi, Christopher Morcom, Pedro A. Agosto Vazquez II, and Maxwell Frank, who recently parted ways with Newport Division.
The winners were recognized at a ceremony held June 16 at the Naval Surface Warfare Center Carderock Division in Maryland.
For more on the ceremony, visit: https://www.navsea.navy.mil/Media/News/SavedNewsModule/Article/3080054/navsea-warfare-center-scientists-engineers-among-navys-best-of- the-best/
NUWC Newport is the nation's oldest warfare center, tracing its heritage to the naval torpedo station established on Goat Island in Newport Harbor in 1869. Commanded by Captain Chad Hennings, NUWC Newport maintains significant detachments in West Palm Beach, Florida and Andros Island in the Bahamas, as well as testing facilities in Seneca Lake and Fisher's Island, New York, Leesburg, Florida and Dodge Pond, Connecticut.
Join our team! NUWC Division Newport, one of Rhode Island's 20 largest employers, employs a diverse, highly skilled, educated, and skilled workforce. We are always looking for engineers, scientists and other STEM professionals, as well as talented experts in business, finance, logistics and other support services who want to be at the forefront of underwater research and development. Please connect with NUWC Division Newport Recruiting on this site- https://www.navsea.navy.mil/Home/Warfare-Centers/NUWC-Newport/Career-Opportunities/ and follow us on LinkedIn @NUWC-Newport and on Facebook @NUWCNewport.